IH Online Course in Teaching Young Learners & Teenagers
This course is ideal if you are new to teaching Young Learners and Teenagers (aged 6 to 17) or you would like to enhance your skills and gain a better understanding of the pedagogy behind teaching this age group. 
As a teacher you want to deliver engaging and enjoyable lessons that will help your young students learn and thrive. This course will inspire you and help you develop and expand the skills you need to teach this age group effectively. It will also give you plenty of practical ideas, including materials and classroom management techniques. 
The course takes into account current world events and the demands of teachers who need to work online, so you will learn skills for remote as well as face-to-face teaching. It is moderated by Cambridge Assessment English, delivered entirely online and is offered exclusively by the IH Online Teacher Training Institute (IH OTTI).
Prices
The complete course price is £415 plus 20% VAT if you will be taking this course while in the UK, or your employer is a UK based company. 
If you have completed an online course with IH OTTI in the previous 12 months, there is a loyalty discount of 10%. The IH staff price is £352. Just let us know on the application form if you would like to claim these discounts. 
Who is the IH Online Course in Teaching Young Learners & Teenagers designed for?
This course is for both newly qualified and experienced teachers who want to gain a certificate in teaching Young Learners and Teens. If you don't have an opportunity for in-house training, a local trainer, or are not able to observe YL classes, this course is for you.
If you are already teaching this age group (6-to-17-year-olds) but would like to expand your skill set, gain classroom ideas and activities, or just want to be a more YL effective teacher, this course will get you up to speed to inspire and motivate Young Learners and Teenagers more effectively.
This course is moderated by Cambridge Assessment English. Your certificate will include the Cambridge logo, adding value to your qualification. 


 
Content of the IH Online Course in Teaching Young Learners & Teenagers
There are 7 sessions in this course, plus a final assignment, which will cover the following topics:
An introduction to YLs and how they learn

Classroom Management

Materials/Practising language/Correction techniques

Clarification of new language

Speaking & Listening

Reading & Writing

Focus on the Learner

Final Assignment
Modules will also include online video observations of real Young Learner classrooms.
There will also be some optional live, synchronous sessions that you will be able to join during the course. The times and dates for the sessions will be decided once the course is up and running. However, they are planned as follows:
Session 1: Getting started with online YL (to take place following module two)

Session 2: Teaching language-focused lessons online

Session 3: Teaching skills lesson online

Session 4: A Q&A session and some practical tips
For those that can't make the session live, access to a recording will be made available.
How is the course delivered?
This course is asynchronous which means you can access the material online whenever it suits you. You do not need to log on at a certain time every week, so the course suits busy lifestyles, work and/or family commitments, and a variety of time differences. You will have the opportunity to attend the additional live sessions if you wish but these are optional and alternatively you can watch the recordings.
Your course tutors will guide and tutor you asynchronously throughout the course and you will progress with your cohort of fellow course participants. Active participation and engagement with the course activities and tasks are also essential to completing the course.
Discussion forums are an important part of asynchronous learning and create an online community that participants really value. You can share best practice tips, exchange ideas, and discuss your experiences with your peers. 
Frequently Asked Questions
What time do I need to devote to studying? We recommend about 5-7 hours each week reading, completing tasks, and joining in the discussion forums. 
Are there live sessions? This course is asynchronous meaning you can access materials and discussion forums whenever it suits you. There are some optional live sessions but you don't have to attend them and you can watch the recordings if you prefer.
Do I have to be teaching a young learner class now? No. But if you can try out the techniques you are learning about as you progress through the course you'll find it helpful. 
Do I have to read other books? No. We provide all the materials that you need. The course also contains lots of links and suggestions for further reading.
Can I join after the start date? You will progress through the course with the other participants in your cohort and the whole group will discuss tasks and content together, so you need to be there from the start.
How many people will be in my group? Usually between 8 and 12.
Will I get a certificate? Yes. See below!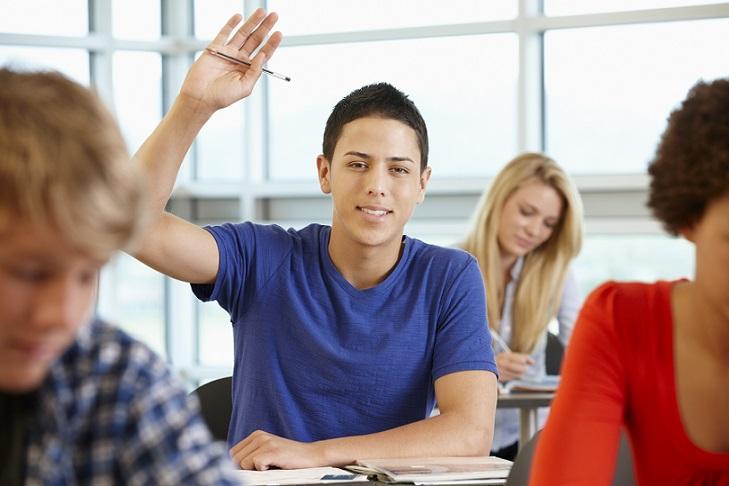 Entry requirements
To apply for this course, you should have an initial teaching qualification but post qualification experience is not essential.  You do not need to have taught students aged 6-to-17 previously.
Please note that your level of English should be C1 or above.
Online applications close on the Wednesday before the course starts. However, we sometimes have late availability, so please get in touch with the admissions team on ihotti@ihworld.com and we will see if there are any last minute spaces. 
Duration
There are seven weeks of tutor led input on this course. After this you will complete your assignment and have one week to complete and submit your portfolio of work ready for assessment. 
Your time commitment
The time commitment will vary depending on the individual, but as a minimum this should be 5-to-7 hours per week. Study hours are flexible, but some tasks require group input and have set deadlines. The more time you dedicate to the course, the more you will learn. 
Your tutors
There will be at least two tutors per course, depending on the size of the group. The course tutors are all current teachers with many years of Young Learner and Teenager experience.
Meet our IH OTTI tutors here! 
Your fellow course participants and online community
The number of course participants will be at least eight (that is our minimum), but is usually between twelve and eighteen. 
The online community that you will become part of when taking this course with your fellow course participants is something we know people really value. Exploring and learning about new ideas and approaches with your fellow course participants will build your confidence so that once you finish the course, you feel ready to apply them in your own context. 
This course is not purely about self study all on your own – it is about engaging with your peers and learning from each other as well as from the course material and your tutors.
Assessment
Each of the 7 modules are assessed by the course tutors. The final assignment will require you to reflect on what you have learnt during the course. This assignment, along with the weekly tasks, makes up the portfolio of work that will be submitted to the IHWO Assessment Unit and then Cambridge Assessment English for external moderation and grading. Participation is also an essential part of this course, and is a contributing factor to your final grade. The final grade is a Pass or Fail.
Your 

verified digital certificate
On successful completion of this course you will receive a digital certificate. This is stored securely on a verified site, so everybody can be confident that it is authentic and real.
It will look like the image below. Because it is additionally moderated by Cambridge Assessment English it carries a Cambridge logo to acknowledge this.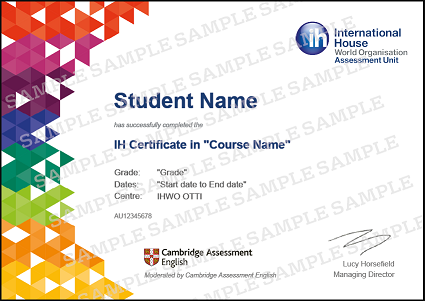 You can share this with a prospective employer, client, or anybody else that you choose.
A digital certificate is more safe and secure for you than paper – it won't get lost in the post, it won't get damaged over time, and won't get lost. It is always available, you can share in just one click, or you can print as many copies as you like whenever you would like. And, it's better for the environment. Reducing paper, ink, and delivery means a lower carbon footprint.
Click here for a short video about verified digital certificates.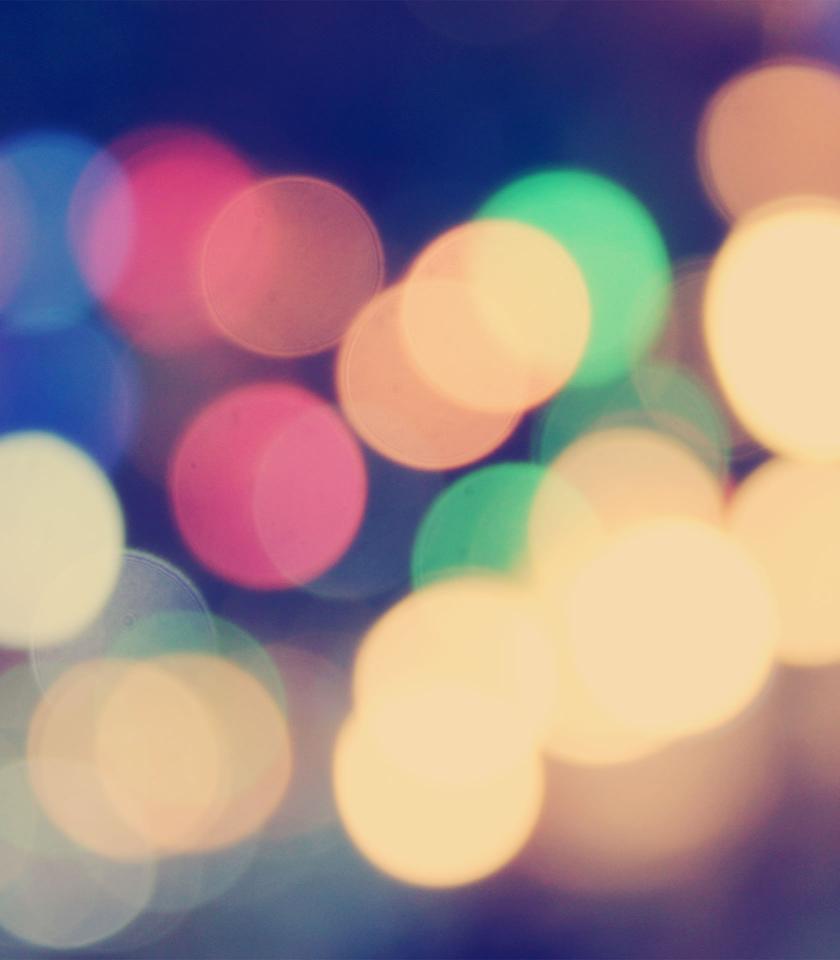 The tutors were very knowledgable, respectful and there was a wide range of experiences shared. Alan Hall
More 100% online, part time, courses
Find other specialist courses which can boost your TEFL career from the IH Online Teacher Training Institute (IH OTTI).
Whichever course you take you'll have a dedicated tutor to guide and support you and a group of peers to have discussions and share ideas with, so you'll feel part of an online community.
And all courses are online and asynchronous so you can access the information whenever it suits you.