IH Certificate in Online Tutoring
The ability to teach effectively online has become essential for all teachers in recent years but the skills required are different to those used in the traditional classroom. This 100% online course will develop your skills and boost your confidence in online teaching, providing you with a better understanding of the online environment and the many new tools and approaches you can use.
With expert course tutors who will teach you best practice techniques, you'll learn about both synchronous (Zoom, Skype, Google Classroom) and asynchronous (platforms hosting discussion forums, activities and materials so students can learn in their own time) environments. You will consider each platform and the equipment needed, as well as learning key techniques such as crafting messages, creating a supportive environment, maintaining engagement and designing tasks. 
The techniques and approaches you will learn on the IH Certificate in Online Tutoring course can be used for both language teaching and teacher training courses delivered in Virtual Learning Environments.
This course was created by expert online trainers and is exclusively offered by the IH Online Teacher Training Institute (IH OTTI)
Prices
The complete course price for courses starting is £347 plus 20% VAT if you will be taking this course while in the UK, or your employer is a UK-based company. 
If you have completed an online course with IH OTTI in the previous 12 months, you can claim the loyalty discount of 10%. The IH staff price for courses is £295. Just let us know on the application form if you would like to claim these discounts. 
Who is the IH Certificate in Online Tutoring designed for?
If you're a teacher looking to deliver lessons online, or an experienced teacher interested in working as an online tutor or trainer, this course is for you. The content can be applied to any subject that is being taught online and is not limited to language teaching. It is also relevant for teachers who would like to design online courses or tutors delivering online courses through universities or other larger organisations.
This course is also for a teacher or trainer who…
is looking for a way to grow professionally;

is working online as a result of Covid-19;

is thinking about starting a career in online tutoring;

wants to gain confidence in teaching online in an asynchronous or synchronous environment;

has taught ESP/EAP and would like to develop their skills as an online teacher of English;

is already teaching online but wants to explore more effective ways of online teaching;

needs to expand their teaching skills due to the school/organisation they work for developing their online course offering;

wants to learn more about how elements of the communicative approach can be maintained with an online method;

wants to improve the quality of the lessons delivered by a school/organisation;

wants to inject some fun and enjoyment into their current online teaching and further inspire students to learn a language;

wants to broaden their teaching skills due to the sometimes precarious nature of EFL employment.
We are proud to say that the IH Certificate in Online Tutoring is one of a limited number of courses recognised by Cambridge Assessment English to qualify CELTA trainers to deliver Online CELTA. 
IH Certificate in Online Tutoring course content
There are four modules on this course, which vary in length, spread over a five-week period.
Module One: Setting the Right Climate
This 7-day module explores how to establish and sustain a supportive community on an asynchronous course, and the importance of this. We will explore how students create profiles, introductions, and site navigation. This module finishes with an optional synchronous (live) meeting.
Module Two: Basic Tutoring Skills
This 7-day module looks at techniques needed to monitor students in an online environment, such as how to craft messages and moderate discussion forums. It will familiarise you with the terminology surrounding asynchronous platforms. At the end of this module, there will usually be the chance to participate in an optional synchronous session with your course peers and one of the tutors.
Module Three: Synchronicity
This 2-week module will compare the differences between synchronous and asynchronous online learning. Course participants will work together to explore a synchronous platform of their choice. They will also be asked to design and present a task either to their peers or as part of an optional online meeting that will take place during the module.
Module Four: And In Summary
This 7-day module looks in-depth at weaving, one of the most challenging skills to learn. You will also go over everything covered during the 5 weeks and how you can implement this in your own online tutoring plans.
How is the course delivered?
This course is asynchronous which means you can access the material online whenever it suits you. You do not need to log on at a certain time every week, so the course suits busy lifestyles, work and/or family commitments, and a variety of time differences. You will have the opportunity to attend a couple of live sessions if you wish but these are optional.
Your course tutors will guide and tutor you asynchronously throughout the course and you will progress with your cohort of fellow course participants. Active participation and engagement with the course activities and tasks are also essential to completing the course.
Discussion forums are an important part of asynchronous learning and create an online community that participants really value. You can share best practice tips, exchange ideas, and discuss your experiences of online tutoring with your peers. 
Frequently Asked Questions
What time do I need to devote to studying? We recommend at least 10 hours each week reading, completing tasks, and joining in the discussion forums. 
Are there live sessions? There are two optional live sessions but you can complete the course without attending them and just watch the recordings. This course is asynchronous meaning you can access materials and discussion forums whenever it suits you.  
Do I have to be teaching an online class now? It is ok if you are not currently teaching online, but if you can try out the techniques you are learning as you are taking the course you'll find it helpful. 
Do I have to read other books? No, we provide all the materials and links that you need. 
Can I join after the start date? You will progress through the course with the other participants in your cohort and the whole group will discuss tasks and content together, so you need to be there from the start.
How many people will be in my group? Usually between 8 and 12.
Will I get a certificate? Yes. See below!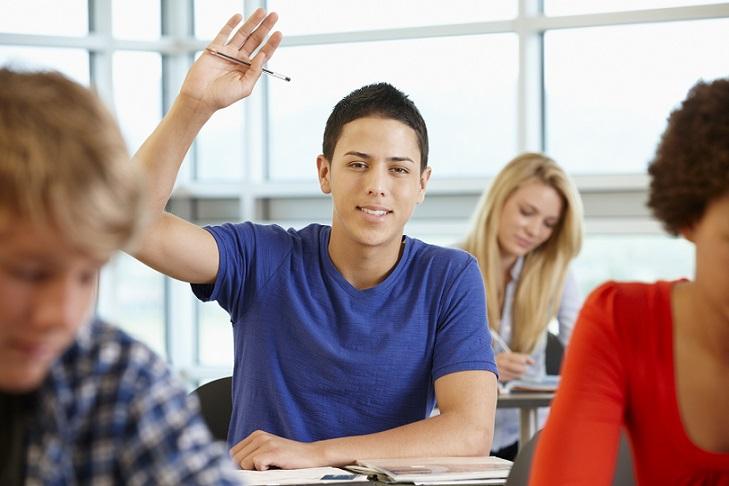 Entry requirements for the IH Certificate in Online Tutoring
To apply for this course, it is best if you have some experience of teaching English, or another subject, either face-to-face or online, but it is accessible to newly qualified teachers as well. You do not need to have taught online previously.
Please note that your level of English should be C1 or above.
Online applications close on the Wednesday before the course starts. However, we sometimes have late availability, so please get in touch with the admissions team on ihotti@ihworld.com and we will see if there are any last minute spaces. 
Duration
There are five weeks of tutor led input on this course. After this you have a week to complete and submit your portfolio of work ready for assessment. 
Your time commitment
Over the 5 to 6 weeks, a minimum of 50 hours should be spent working on this course. This means approximately 2 hours' work per day, although the timetable is flexible. Of course, the more time you dedicate to the course, the more you'll get out of it.
Your fellow course participants and online community
There will be a minimum of eight participants on the course and a maximum of eighteen.
The online community that you will create with your fellow course participants is something we know people really value. The skills required to teach or tutor in the virtual environment are different to those used in the traditional classroom and building an online community is an essential part of the learning process. Exploring and experimenting with new ideas and approaches with your peers will build your confidence so that once you finish the course, you feel ready to apply them in your own context.
This course is not purely about self study all on your own - it's about engaging with your fellow course participants and learning from each other, as well as from the course material and your tutors.
Assessment
At the end of the course, participants submit a portfolio comprising a set of compulsory tasks that they have completed during the course. Typically this will be one reflective task per module. The final grade will be either a Pass or Fail, determined by a successful completion of portfolio tasks and a minimum 80% contribution of the course.
Your verified digital certificate
On successful completion of this course you will receive a digital certificate. This is stored securely on a verified site, so everybody can be confident that it is authentic.
It will look like the image below: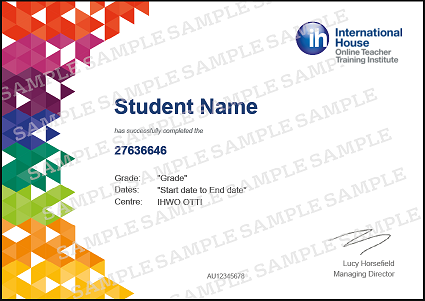 You can share this with a prospective employer, client, or anybody else that you choose.
A digital certificate is more safe and secure for you than paper – it won't get lost in the post, it won't get damaged over time, and won't get lost. It is always available, you can share in just one click, or you can print as many copies as you like whenever you would like. And, it's better for the environment. Reducing paper, ink, and delivery means a lower carbon footprint.
Click here for a short video about verified digital certificates from our partner Accredible.
Tutors
The course tutors all have many years of online teaching experience.
Meet our IH OTTI tutors here!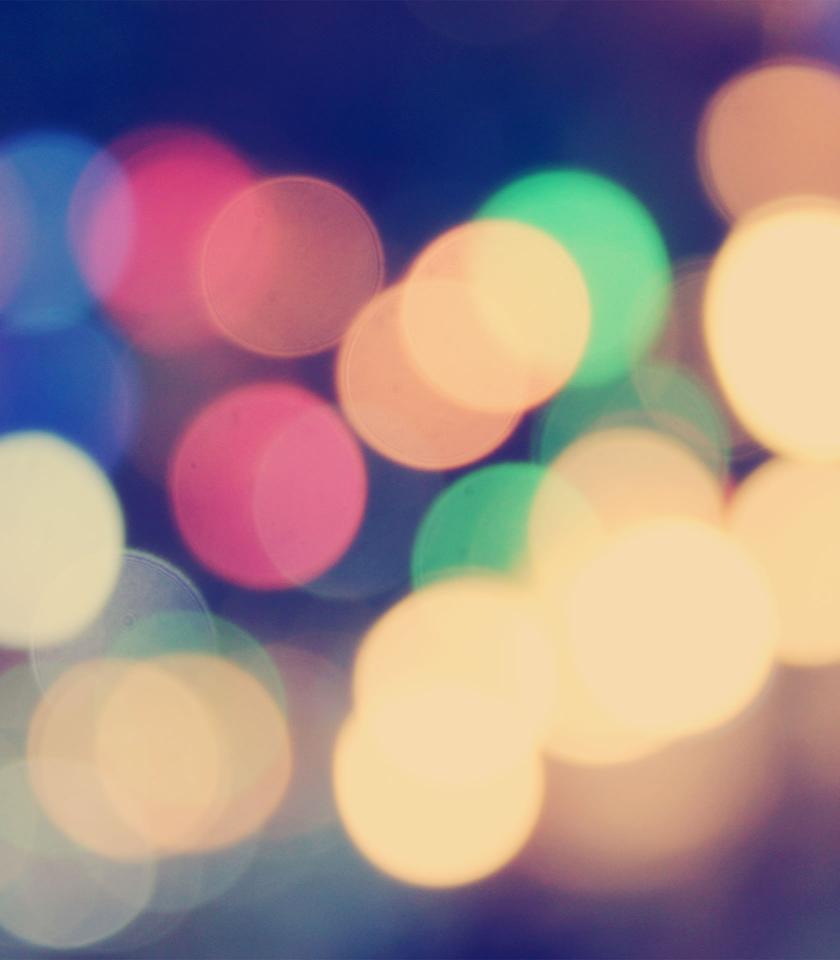 It's a short course which teaches you a huge amount and by the end of it, you feel fully prepared to start teaching online. Lucie Cotterill
More 100% online, part time, courses
Find other specialist courses which can boost your TEFL career from the IH Online Teacher Training Institute (IH OTTI).
Whichever course you take you'll have a dedicated tutor to guide and support you and a group of peers to have discussions and share ideas with, so you'll feel part of an online community.
And all courses are online and asynchronous so you can access the information whenever it suits you.