Taking the CELTA in Spain
If you are thinking about doing your teacher training in a country full of history, sun and great food, then you should take the CELTA in Spain. With friendly residents, beautiful cities, medieval towns, colourful festivals and an artistic heritage, there is so much to love about the country if you choose to do the CELTA in Spain. 
English teachers in Spain are in high demand, as English is the second language that people in Spain want to learn. If you are looking to teach English in Spain after your CELTA, then taking a course in one of the International House teacher training centres in Spain will put you in a good location to look for a job. 
Spain itself offers an incredible variety of experiences, with the Pyrenees perfect for skiing, beaches for surfers and sunbathers, incredible nightlife in every city, delicious food, beautiful landscapes and nature reserves, and even some desert. Public transport across the country is extensive and reliable, so it's not difficult to visit somewhere that takes your fancy, whether it's a weekend in Barcelona or a day trip to an ancient castle or national park.
You'll also find eating out and drinking in Spain can be very reasonable with many restaurants offering an exciting mix of tapas (small plates). It's hard to go wrong when choosing from extensive menus, but make sure you try: tortilla (Spanish omelette), patatas bravas (fried potatoes covered in a spiced sauce), jamón (dry-cured ham), calamari (battered squid) and croquettes (crispy potatoes filled with something delicious). Try to avoid the tourist traps; your teacher training centre will help you find the best spots to eat and drink with the locals. 
Doing a CELTA course in Spain is a great opportunity to start a career in TEFL whilst enjoying everything this country has to offer. International House has a range of excellent CELTA training centres in Spain, some of which have been training TEFL teachers for decades.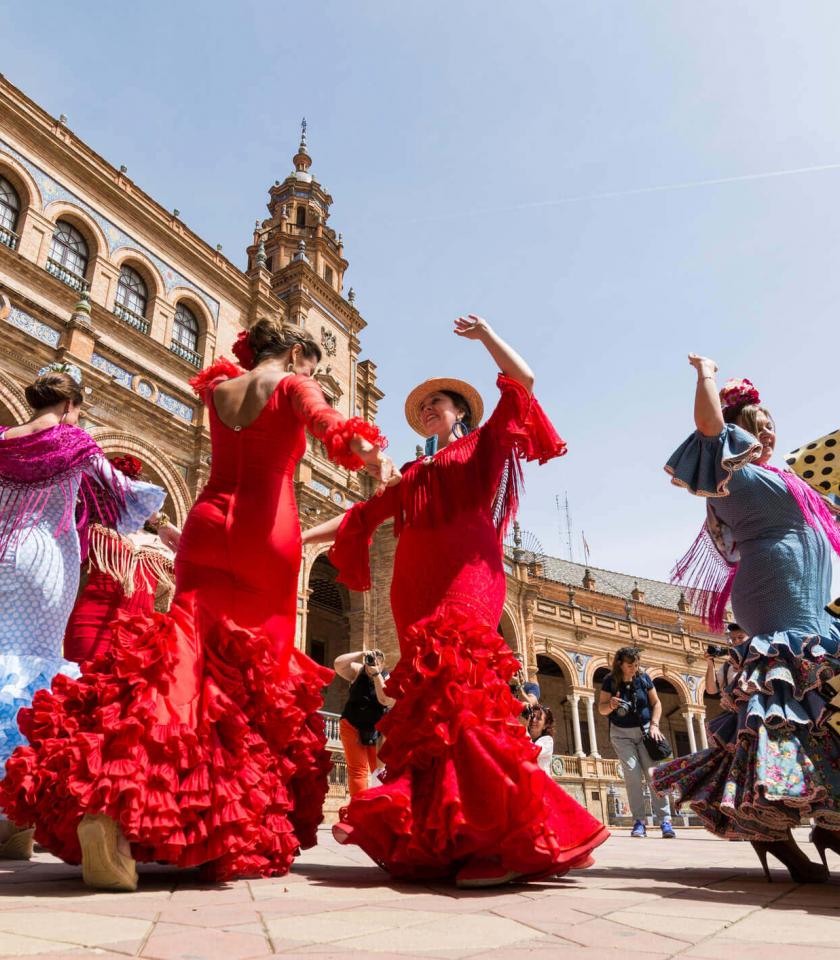 CELTA in Seville
Seville, in the south of Spain, is a city filled with bars where you can enjoy some local tapas and improvised flamenco perfect treat after a day full of CELTA training. The Gothic Cathedral, previously a mosque, is right in the heart of Seville and definitely worth a visit. Just next to it, you can find the Alcázar, a royal palace with very intricate Moorish decorations in wall and ceilings and colourful tiles surrounded by amazing tropical gardens. This royal palace was also one of the filming locations of Game of Thrones. Both the cathedral and Alcázar are UNESCO World Heritage Sites. If you want to take your CELTA in Seville, the International House teacher training centre is located right in the heart of the city, a short walk from the cathedral and the buzzing Plaza Nueva.  
CELTA in Malaga
With 3,000 hours of sun a year, perhaps doing the CELTA in Malaga is perfect for those who like a near-constant supply of vitamin D. Located in southern Spain, on the Costa del Sol, if you need some relaxing time by the sea after a long day of CELTA training, you are in luck. One of Malaga's main attractions are the beaches, found within walking distance from the city centre. 
The high street, Calle Larios, hosts many events and you can even see beautiful flamenco dancers improvising their moves there. Malaga is packed with restaurants and bars where you can find the most delicious tapas. The International House training centre in Malaga is centrally located in the historic centre, close to many bars, restaurants and cafes, so you'll be close to the heart of the city.