About the teacher training centre
Apollo IH Hanoi is part of a large group of language schools concentrated in Hanoi and Ho Chi Minh City. Each branch has a very modern feel, and its styled with an eye for detail. 
If you are at school at class drop off time, watch out for all the parents dropping off their kids as passengers on their mopeds! With great safety and order, hundreds of excited kids rush into the school! 
Situated a 10-minute drive from the hustle and bustle of Hanoi's famous Old Quarter (home of Hoan Kiem lake), our Pho Hue centre is situated in the Hai Ba Trung area of Hanoi. This is where teacher training happens. 

What is the CELTA
The CELTA is a TEFL qualification which prepares you to teach English as a foreign language. You don't need any existing English language teaching experience or training. It's usually a 4 or 5 week full time course (but you can also take it part time).
Standing up in front of a class for the first time is a daunting prospect, so you need to make sure you have the skills you need to teach effectively. The CELTA prepares you for the classroom in these ways:
Taught sessions on methodology, lesson planning, language analysis and language skills. (In total, you'll have 120 hours of input.)

The opportunity to observe experienced teachers in a real-life language classroom situations – so you can see the different skills and techniques they use.

Teaching yourself – with helpful and detailed feedback from your tutors.  This practical experience is invaluable when you start your first job.
You'll have to complete some written assignments as well, but when it's all successfully completed you'll be ready for your first job and first students!
Read more about the CELTA here 
Face to Face CELTA at IH Hanoi
Having operated as a Cambridge CELTA centre for well over 10 years, we train around 180-200 new teachers per year on Apollo International House CELTA courses in Hanoi and Ho Chi Minh City. Our experienced team of trainers have worked with trainees from all corners of the world, helping brand new as well as experienced teachers to increase their confidence and competence within the classroom. We are proud to uphold the Cambridge standard for teaching quality and will always go the extra mile to support our hardworking trainees through what can be a demanding course.
The centre has a bright and modern environment for study, with fully equipped classrooms containing whiteboards, computers, projectors and sometimes interactive whiteboards. 
There is a 'CELTA trainee room' available in the evenings and weekends with computers, printers, reference books and resources to aid in lesson preparation. Trainees also have access to a photocopier while preparing for class. Light refreshments (coffee, tea and biscuits) are provided every day. Trainees will also have access to a kitchen, fridge and hot water if they wish to bring their own food.
EARLY BIRD DISCOUNT: We are offering an early bird discount (2.5 million VND off the price of the course) for CELTAs in Hanoi.

To receive the discount you must enrol and pay 2 weeks before the start of our July course or 6 weeks before the later course start dates.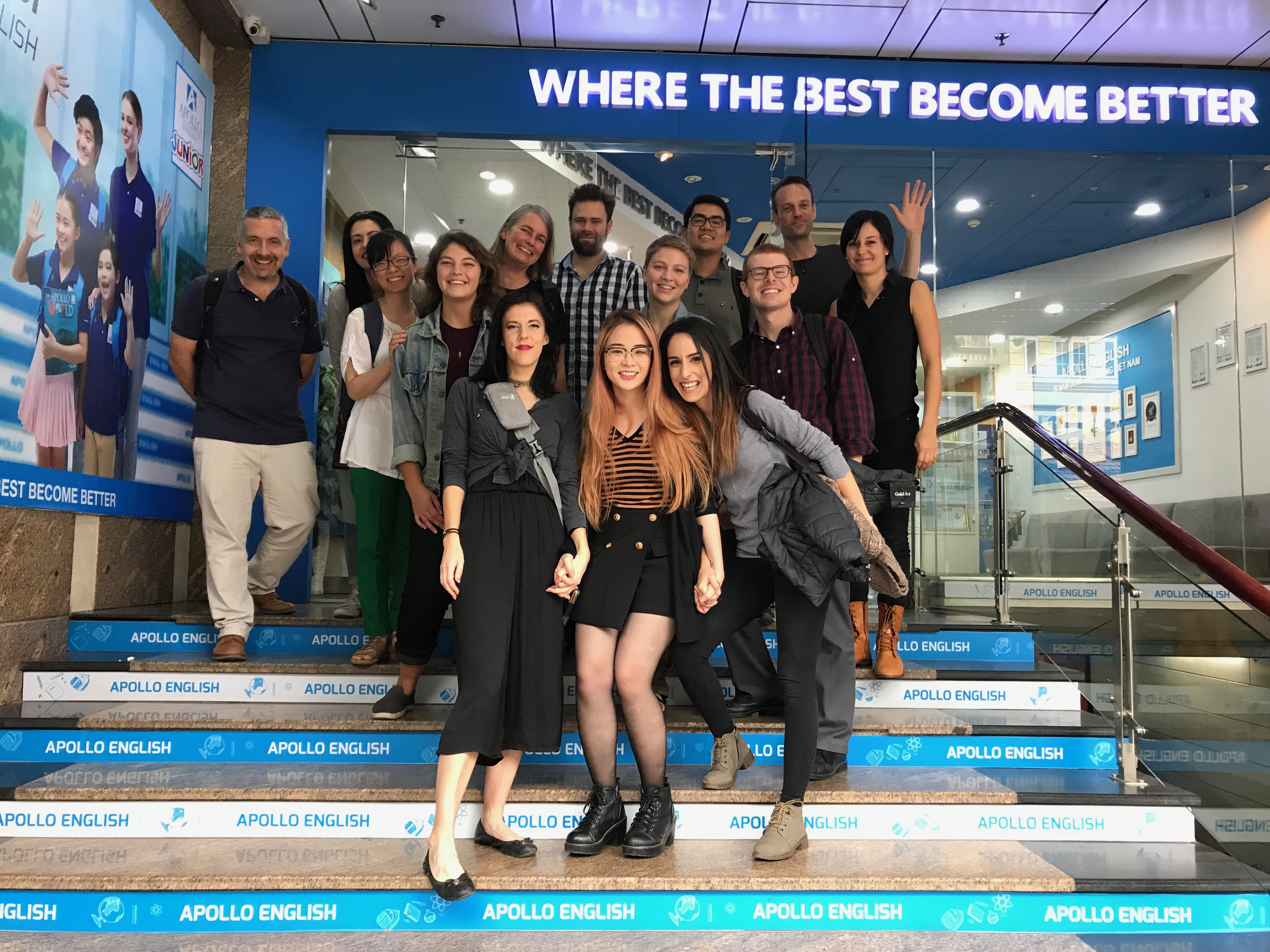 What will fellow students be like?
Although the CELTA is an entry-level qualification, you will likely find yourself on the course with both trainees who have never taught before and those with several years of teaching experience.  Our trainees come from a variety of backgrounds and countries the world over. You will usually find a mix of native and non-native speakers on our courses. The majority of our trainees are in their 20s and 30s but we have had trainees anywhere from 19-to-65 years old. 
We truly believe that this mix of personalities and experiences generally makes for a unique and extremely beneficial learning environment.
The CELTA is internationally recognised and will open doors to employment opportunities around the world. Right now is a particularly good time to be an English teacher in Vietnam and we can say with certainty that our trainees will have no problem finding employment in either Hanoi or HCMC.  There are many options for employment in language centres, local public schools and beyond.  Towards the end of the course, we will be happy to offer advice to our trainees on reputable schools in the local area.
Apollo International House is a large language school with around 30 centres nationwide and growing! As a result, Apollo have regular opportunities for CELTA-qualified teachers to join their team. Apollo will give successful CELTA trainees a 12,800,000 VND refund on their course fees if they sign a full-time 12-month contract with Apollo within the last month of completing their CELTA course.
This offer depends on job availability and a successful job interview. The money will be refunded in two halves - in the first salary payment and at the end of the contract.
Tutors at this training centre
Graeme Dunlop
I've been teaching EFL in International House schools since 2007 in Russia, Spain, Poland and Vietnam. After first leaving university, I worked briefly in logistics but soon realised I wanted to travel and have a job that made more of a difference to other people.

Many of our trainees state that they not only learned about teaching, but through the intensive nature of the course, learned a lot about themselves and left with a lot more confidence after completing CELTA. I hope that you find the CELTA course to be a rewarding learning experience.