About the teacher training centre
International House Bristol's Teacher Training Centre is located in Clifton, one of Bristol's most popular and elegant areas. Clifton is one of the oldest and most affluent areas in Bristol and is also home to Bristol University. There are also a number of shops and restaurants less than a minute's walk away, so students can relax in a safe and friendly environment with all amenities close to the school.


With a warm and friendly atmosphere, IH Bristol is fully equipped with comfortable seating, interactive whiteboards, computers and free wi-fi access. There's a students' room with tea/coffee/snacks machines and a microwave and fridge so trainees can bring their own lunches. There is also a private garden.
Bristol is a city known for its artistic flair (home of the famous Banksy and Wallace and Gromit) and the centre at Queens Avenue has a new mural in its reception representing local culture, elements of Bristol's landscape and architecture, and the city's famous street art. We are proud to represent Bristol!  
What is the CELTA?
The CELTA is a TEFL qualification which prepares you to teach English as a foreign language. You don't need any existing English language teaching experience or training. It's usually a 4 or 5 week full time course (but you can also take it part time).
Standing up in front of a class for the first time is a daunting prospect, so you need to make sure you have the skills you need to teach effectively. The CELTA prepares you for the classroom in these ways:
Taught sessions on methodology, lesson planning, language analysis and language skills. (In total, you'll have 120 hours of input.)

The opportunity to observe experienced teachers in a real-life language classroom situations – so you can see the different skills and techniques they use.

Teaching yourself – with helpful and detailed feedback from your tutors.  This practical experience is invaluable when you start your first job.
You'll have to complete some written assignments as well, but when it's all successfully completed you'll be ready for your first job and first students!
Read more about the CELTA here 
CELTA at IH

Bristol
We have 100% pass rate. We run six or seven courses a year with an average of 12 people per course. We continue to run the free lessons in between courses so that trainees who want to can get more teaching experience after the course. Many of our CELTA graduates have gone on to work for us during summer school and even after the course.
One of our CELTA graduates from the May/June 2016 course worked for us over the summer period with teenagers when we had a visit from the Director of an IH school in Italy. He said he was looking for a young enthusiastic teacher and I immediately thought of this particular teacher and he ended up getting the job. He's been there ever since and is now settled in Italy. And that came from being in the right place at the right time.
The best thing about IH Bristol is the level of personalisation. Staff say that everyone who studies at the school becomes a member of the IH Bristol family. We like our trainees to feel that they are part of something larger than just the course they are on and that by training with us, they are on their way to becoming an IH teacher. We offer short contracts to a large percentage of our trainees to give them a guided start to their classroom career. The school has a homely feel and trainees are encouraged to see IH Bristol as a home-from-home while they are studying and after they finish.
IH Bristol's Training Centre has a large, airy training room on the ground floor which can take up to 18 trainees comfortably. The room has computers for those who do not have a laptop and is equipped with a smart board, allowing students and teachers to use modern technology in class.
In addition, the school has several large, bright classrooms for the teaching practice lessons to be taught as part of the course. All these rooms are equipped with smart boards and computers. Trainees have access to the students' room with fridge, microwave and vending machines. There is a dedicated photocopier for trainee use, as well as a library of teacher training texts in addition to the books recommended for the course.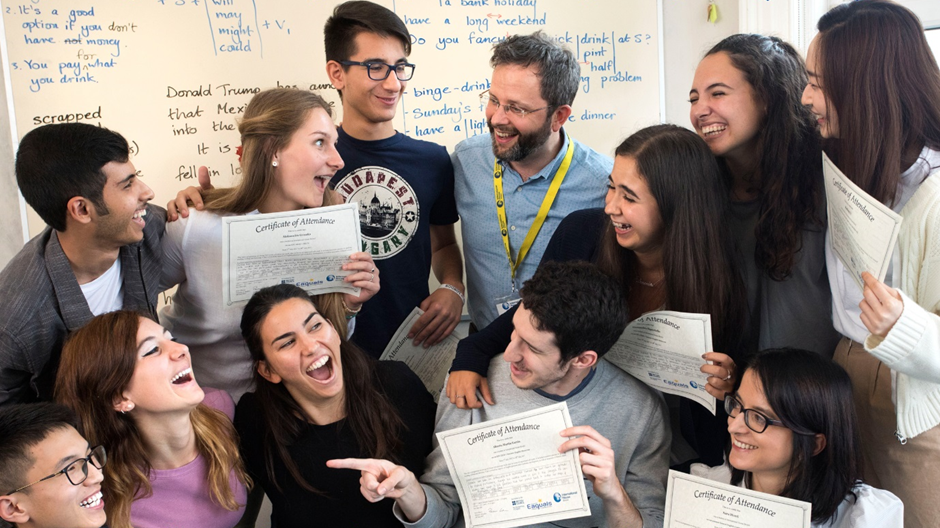 What will fellow students be like?

 
We have all sorts of people on our courses ranging in age from 18 to 65. We have people doing a gap year before university, recent graduates, people looking for a change of career after redundancy, people in their 40s and 50s whose children have left home and who now have the freedom to pursue teaching English as a foreign language, retired people who have had a professional career and wish to retire abroad and teach English to earn a bit of extra money.
We have people with no teaching experience whatsoever and people who have been teaching in the state school system and are now wishing to change direction. We have non-native teachers who are already practising English teachers in their own countries and who wish to expand their knowledge of different methodologies. Many of our candidates are doing the course so that they can live and work in another country, but some people want to stay in the UK.
Tutors at this training centre
Charlie
I have been an EFL teacher since 1991, when I first qualified on a CELTA. While I've had other jobs, teaching English has been my only career.

I encourage trainees to think about the students, to put them at the centre of their teaching decisions and where necessary to change or adapt the lesson material to make it more student-focussed.

Liz
I have been an EFL teacher for 25 years and a teacher trainer for 11 years. I taught in Greece, Portugal, and Italy before returning to the UK where I continued teaching at IH Bristol.

The advice I give to trainees is to always keep developing as a teacher – teach a wide range of ages and types of English to see what suits you, attend workshops and conferences, and read articles written by experienced EFL professionals.
CELTA student testimonials
I really enjoyed my CELTA course at IH Bristol. Not only was it well organised, very professionally delivered and engaging but I learnt such a lot. I had been a secondary school teacher for nearly 20 years but still there was so much to learn. It was fabulous professional development and really opened my eyes to a world of teaching English language that I knew I could really enjoy. I think the course is good value for money. It is 4 weeks of intensive professional development with a valuable and universally recognised qualification at the end of it (if you work hard!). If you want to teach English Language and learn to teach this is the best course to do. If you want to hone your teaching skills and develop a deeper understanding of how teaching language can enhance the teaching of other subjects I would also recommend this course. Angelika Cowell