About the teacher training centre
We want all students to be confident booking a course at IH Rome Accademic Britannica amid the current Covid-19 restrictions.
We are currently running CELTAs fully online - you'll be in a virutal classroom with your classmates in real time - it's not like taking a self study online programme. You'll even have online teaching practice - developing really useful skills at the moment that are not usually on the CELTA! 
If you'd prefer to apply for a face to face course, and if they don't run, you'll be able to transfer to a future course. Your application and any payments will all be accepted for later course dates.
IH Rome Accademia Britannica is right in the heart of Rome, close to the Colosseum, San Giovanni in Laterano and the main railway station (Stazione Termini). If you are interested in exploring Rome, this is a great base. 
We started teaching English to local adults and children more than 50 years ago. Our teacher training centre was founded more than 30 years ago mainly to cater to the needs of the local schools. It expanded to become the largest in Italy, in response to the growing demand for training courses in both State schools and private institutions.
Some members of staff have been with the team nearly all that time! Norman, Giovanni, Ian and the whole team, still enjoy welcoming all their english and teacher training students into the school. 
Over the years we have helped more than three thousand candidates from all over the world to start their careers in English teaching both in Italy and abroad. And we are looking forward to the next three thousand!
What is the CELTA
The CELTA is a TEFL qualification which prepares you to teach English as a foreign language. You don't need any existing English language teaching experience or training. It's usually a 4 or 5 week full time course (but you can also take it part time).
Standing up in front of a class for the first time is a daunting prospect, so you need to make sure you have the skills you need to teach effectively. The CELTA prepares you for the classroom in these ways:
Taught sessions on methodology, lesson planning, language analysis and language skills. (In total, you'll have 120 hours of input.)

The opportunity to observe experienced teachers in a real-life language classroom situations – so you can see the different skills and techniques they use.

Teaching yourself – with helpful and detailed feedback from your tutors.  This practical experience is invaluable when you start your first job.
You'll have to complete some written assignments as well, but when it's all successfully completed you'll be ready for your first job and first students!
Read more about the CELTA here 
CELTA Online with IH Rome
In response to unprecedented conditions with coronavirus, it's now possible to take a 100% CELTA online with the great teaching team from IH Rome.
The Cambridge CELTA Course Online (or CELTA Online) is a flexible way to take CELTA. It leads to the same CELTA qualification and is assessed and moderated according to the same criteria.
Like the face-to-face CELTA course, CELTA Online has a significant practical component. You will complete 6 hours of assessed teaching practice in groups in an online classroom, from the comfort of your home! 
More details about CELTA 100% Online
CELTA at IH Rome Accademia Britannica
We are professional, welcoming and caring at the same time. Our students' needs and wellbeing are of paramount importance to us.
Course participants have access to our fully equipped Study Centre and its extensive library of materials for lesson planning and reference. Trainees are also provided with their own room that includes photocopying and IT facilities, and Wi-Fi is available in the whole premises.
We have been a CELTA centre since 1975 and were one of the first centre in the world to run the CELTYL course back in 1997. We have a team of 6 resident trainers and we have trained about 4,500 teachers of EFL so far. 
We also hold our famous "After CELTA" tea party!!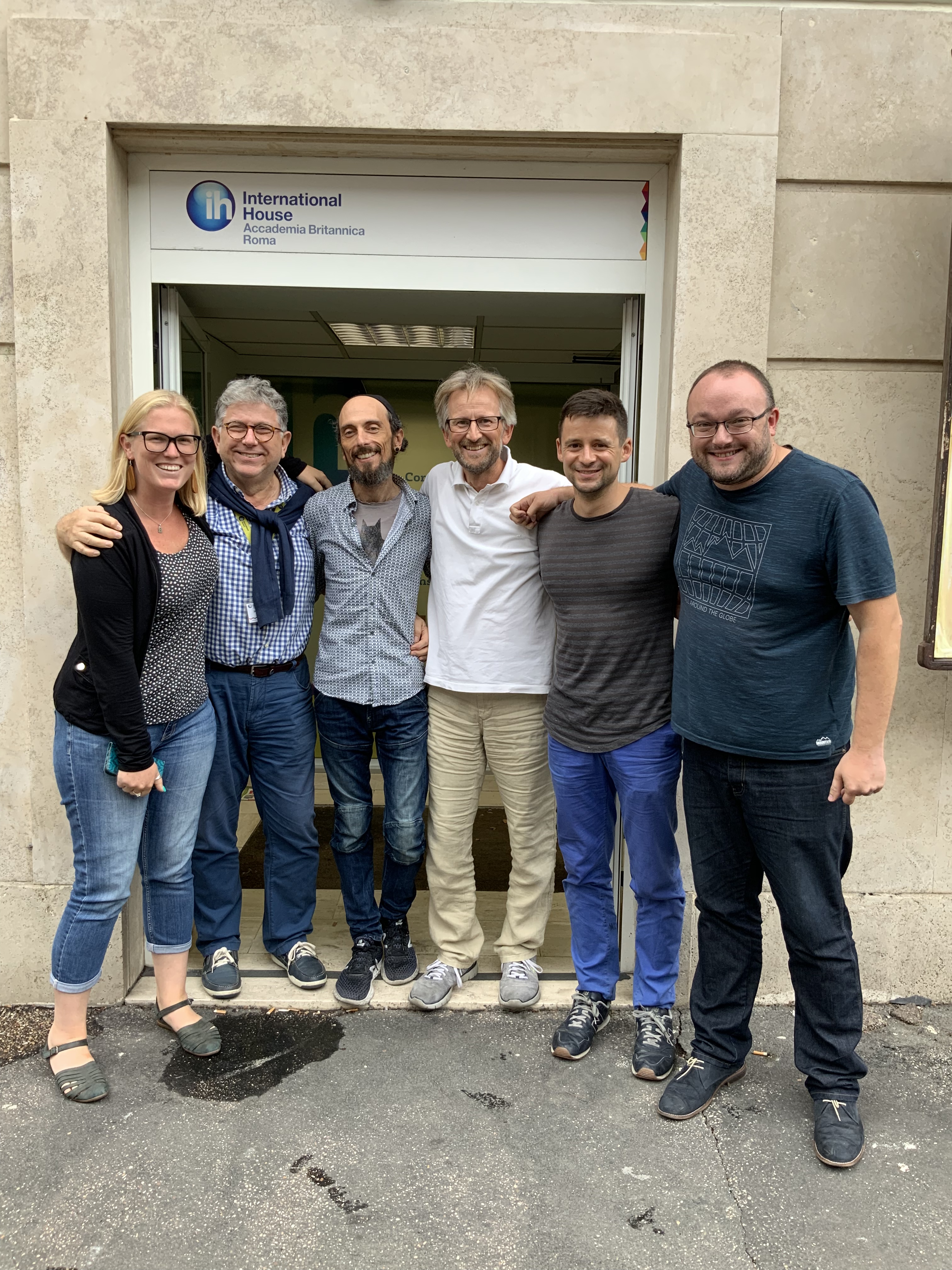 What will fellow students be like?
We have a very mixed crowd of trainees on our courses, and the students' mix is different on intensive or semi-intensive courses.
Students' age and experience go from post-graduate students (or even younger) willing to travel and work abroad, to very focused individuals who choose teaching as a career as well as more mature people looking for a career change.
The main asset in such a variety is the experience of our resident trainers who always manage to build a strong group bond.
As a long-term established centre, we receive request from schools in Rome and Italy to advertise job openings to CELTA graduates. It is not difficult to find a job as an EFL teacher in Rome, and we give advice (and warnings!) to our trainees.
Tutors at this training centre
CELTA student 

testimonials
"The course was worth every penny, and I would recommend this specific language school to anyone else interested in taking a CELTA course.  Thanks for the experience! " Daniel B, CELTA graduate
"It was challenging, fruitful and inspiring. I learned a completely new perspective on teaching and the structure of the course was absolutely perfect to make me achieve all that, especially the fact that we were immersed in teaching practice (mine or of my colleagues') every single day!" Lisa E, CELTA graduate