About the teacher training centre
Take your CELTA online with the largest centre in the world (by student numbers)!
Due to COVID we switched our CELTA courses to be 100% online back in March 2020. Since then, we have trained over 150 teachers with the online CELTA and have received very positive feedback from our graduates!
The online course is not self-study – you will be in a live classroom with your trainer and fellow classmates, and will even have live online teaching practice twice a week.
The CELTA certificate you receive is the exact same as if the course was in person so future employers will not know the difference. Without travel costs and accommodation fees, our students end up saving a lot of money when compared to the face to face course.
This means that you have the option of continuing with your career development in a safe environment – your own home!
You'll also learn extra valuable skills of teaching live in an online classroom. This is a full time online course - you'll learn with tutors in a real (virtual) classroom and trainees have even more time with the trainer than on our regular face to face courses.
You can take our CELTA online course either full time (4 weeks) or part time (10 weeks).
Or, once borders into Thailand reopen, you could choose to study face to face with our team in our spacious and friendly school here in Bangkok. If you prefer face to face and want to apply for this course type, you can also switch free of charge to the online course if the face to face course doesn't run.
About IH Bangkok
International House Bangkok was founded in 1999 and has since grown into a major centre of English language teaching and teacher training in Thailand. We normally train over 500 CELTA students every year and run courses year round with full-time trainers.
We primarily help students to: 
Become TEFL teachers with the Cambridge CELTA, DELTA, and other teacher training courses

Learn English intensively or part-time

Prepare for English exams and other exams

Study English online with IH Bangkok
Having only full-time CELTA trainers means that our trainers are constantly improving the course, thinking about how best to conduct training, and have more experience than the average CELTA trainer.
What is the CELTA?
The CELTA is a TEFL qualification which prepares you to teach English as a foreign language. You don't need any existing English language teaching experience or training. It's usually a 4 or 5 week full time course (but you can also take it part time).
Standing up in front of a class for the first time is a daunting prospect, so you need to make sure you have the skills you need to teach effectively. The CELTA prepares you for the classroom in these ways:
Taught sessions on methodology, lesson planning, language analysis and language skills. (In total, you'll have 120 hours of input.)
The opportunity to observe experienced teachers in a real-life language classroom situations – so you can see the different skills and techniques they use.
Teaching yourself – with helpful and detailed feedback from your tutors.  This practical experience is invaluable when you start your first job.
You'll have to complete some written assignments as well, but when it's all successfully completed you'll be ready for your first job and first students!
Read more about the CELTA here 
CELTA Online with IH Bangkok
In response to unprecedented conditions with coronavirus, it's now possible to take a 100% CELTA online with the great team at IH Bangkok.
What's special about this is 
Full Time Option - you'll complete in 4 weeks
Part Time Option - this will take 10 weeks and the training happens at weekends
Live online classes with tutors ( not based on self study)
This is a flexible way to take CELTA. It leads to the same CELTA qualification and is assessed and moderated according to the same criteria.
Like the face-to-face CELTA course, CELTA Online has a significant practical component. You will complete 6 hours of assessed teaching practice in groups in an online classroom, from the comfort of your home! Just like our students in the picture below.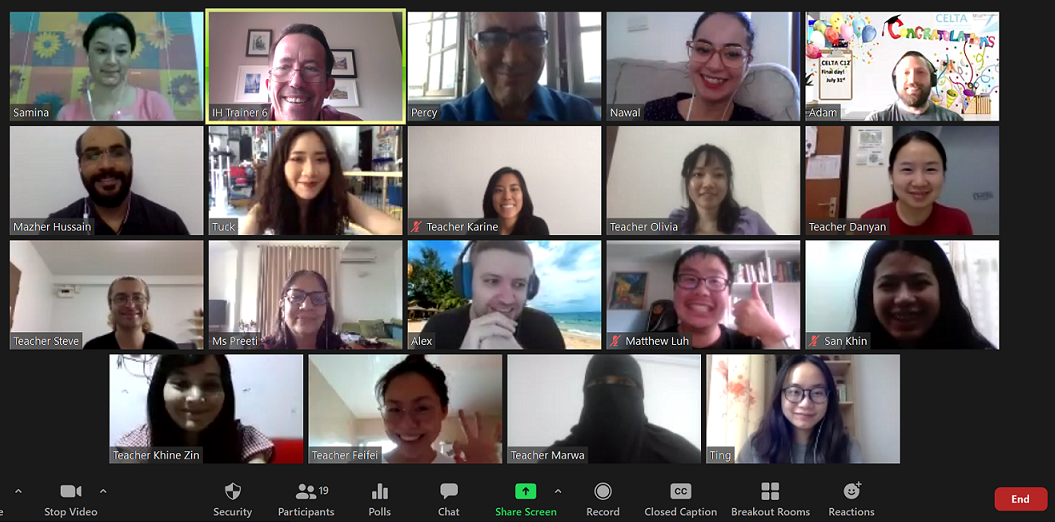 100% Online Student Testimonials
The CELTA course I took over the summer was run online and it was very well administered and being online did not take away from the excellence of the course. The trainers are professional, giving you excellent guidance and  feedback.  They also encourage trainees to share their views about each other's teaching, which helps to  build the trainees skills and methodology. The course encourages teachers to teach real students in a student centred way, thus making the experience very authentic. There is also a treasure of information shared about good teaching practices on the moodle site. All in all, it is very intense but well worth the money spent.  Preeti, Summer 2020        
The CELTA is an enjoyable course in which your own hard-work and dedication are matched by that of the trainers to ensure a valuable qualification is achieved in such a relatively short period of time. Ben, Summer 2020
Face to Face CELTA at IH Bangkok
While many centres run just 1-3 courses per year, we run 10 every year so have a lot of experience on how best to run the CELTA. We have only full-time trainers, and at Bangkok and our sister centre in the north of Thailand, we have over 500 graduates every year!
As Bangkok is a very international city, your classmates will be from all around the world. We had over 35 nationalities on the CELTA course last year. The age range is also varied with most below 35, but we also regularly have candidates over 50.
We moved to a new, purpose built training centre in 2018 so the facilities are set up for everything teacher trainees need – 14 classrooms, a break room, a resource room with photocopiers, a resource library, computers, and more.
We accept payment in USD, Thai Baht, and GBP.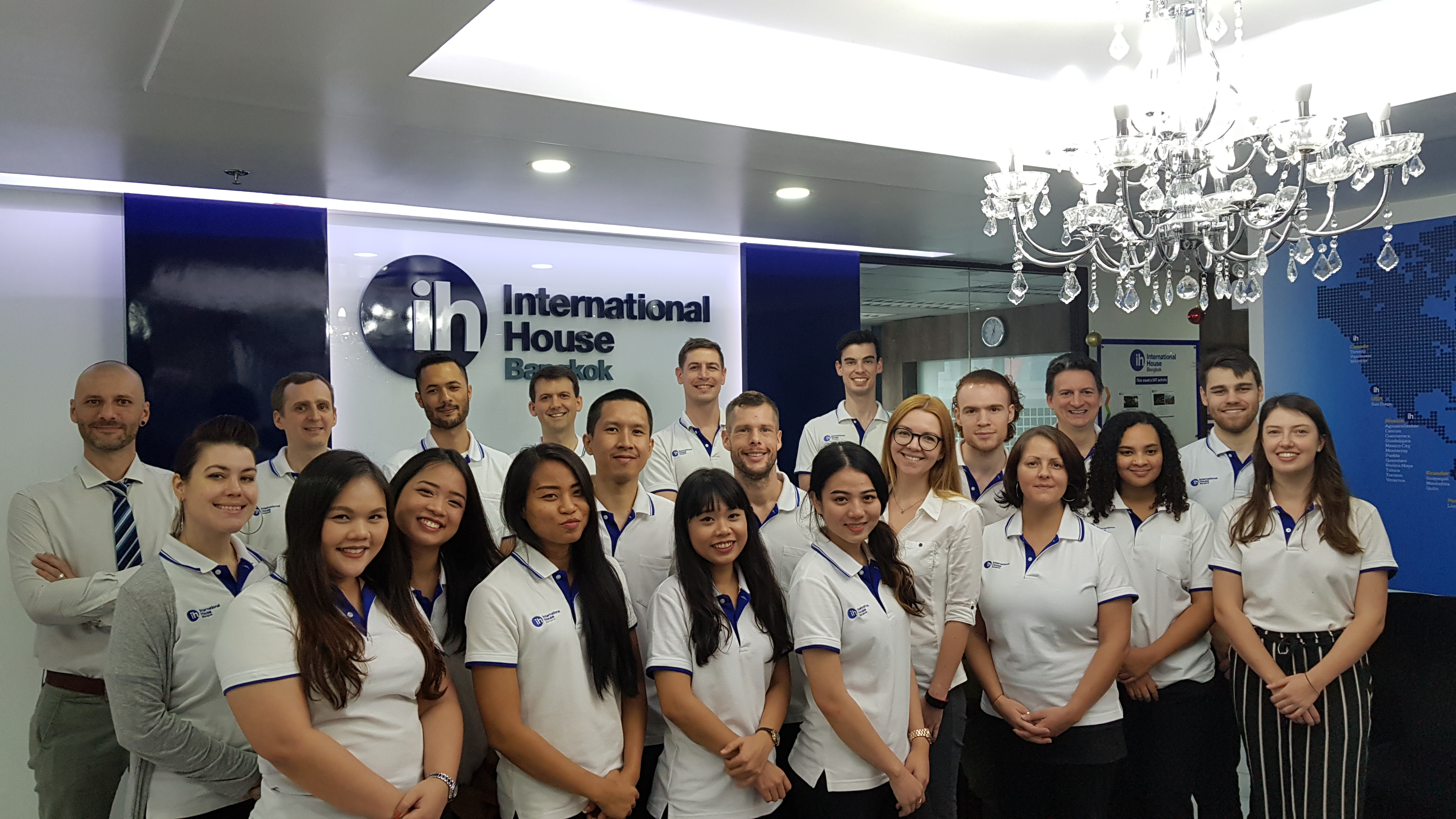 CELTA Student Testimonials
I have just finished the CELTA course in there (IH Bangkok). The trainers and staff were all magnificent. I couldn't be happier with my decision of coming here to take this course. Manu
My fiancé and I both completed the CELTA program through IH Bangkok and it was a great experience and worth every penny. The trainers really have your best interest at heart and want to see you succeed. Priscilla
Tutors at this training centre
Danny Willcocks
I have been an EFL teacher for 29 years and a teacher trainer for 13 years and started out by doing the CELTA myself. It has always been a great pleasure to be part of students succeeding in English and when guiding as a trainer on a CELTA course you certainly feel you are giving teachers great models and frameworks to use in the classroom and immediate feedback to help them develop. This helps both on the course and also afterwards through reflection, which is a key skill learnt on the course.

I believe that starting out with the Cambridge CELTA through International House Chiang Mai/ Bangkok gives teachers great models and frameworks to use in the classroom and immediate feedback to help them develop. This helps both on the course and also afterwards through reflection, which is a key skill learnt on the course. This coupled with the global Cambridge CELTA recognition run by International House, the school that started it, means it gives the best possible help to TEFL careers.