About the teacher training centre
IH Chiang Mai specialises in teacher training, on a dedicated campus which has the school, restaurant, accommodation, and a swimming pool and tennis court. The CELTA can be intense, but in this environment you can totally focus on your studies away from everyday distractions. 
We are planning to be back to face to face teaching as soon as possible, but in the meantime all out courses, delivered by the same great teams, are 100% online. 
IH Chiang Mai is a sister school to IH Bangkok, so in the online environment you will benefit from trainers across both centres. Since going online in March 2020, both centres have trained over 150 teachers with the online CELTA and have received very positive feedback from our graduates!
The online course is not self-study – you will be in a live classroom with your trainer and fellow classmates, and will even have live online teaching practice twice a week.
Once borders into Thailand reopen, you can choose to study face to face in our unique tropical paradise! We are taking bookings for our January 2022 course now! 
What is the CELTA?
The CELTA is a TEFL qualification which prepares you to teach English as a foreign language. You don't need any existing English language teaching experience or training. It's usually a 4 or 5 week full time course (but you can also take it part time).
Standing up in front of a class for the first time is a daunting prospect, so you need to make sure you have the skills you need to teach effectively. The CELTA prepares you for the classroom in these ways:
Taught sessions on methodology, lesson planning, language analysis and language skills. (In total, you'll have 120 hours of input.)
The opportunity to observe experienced teachers in a real-life language classroom situations – so you can see the different skills and techniques they use.
Teaching yourself – with helpful and detailed feedback from your tutors.  This practical experience is invaluable when you start your first job.
You'll have to complete some written assignments as well, but when it's all successfully completed you'll be ready for your first job and first students!
Read more about the CELTA here 
CELTA Online with IH Chiang Mai
The 100% CELTA online with IH Chiang Mai can be studied:
Full Time Option - you'll complete in 4 weeks, attending Monday to Friday
Part Time Option - this will take 10 weeks and the training happens at weekends
Both options have live online classes with tutors - they are not self study. 
This is a flexible way to take CELTA. It leads to the same CELTA qualification and is assessed and moderated according to the same criteria.
Like the face-to-face CELTA course, CELTA Online has a significant practical component. You will complete 6 hours of assessed teaching practice in groups in an online classroom, from the comfort of your home! Just like our students in the picture below.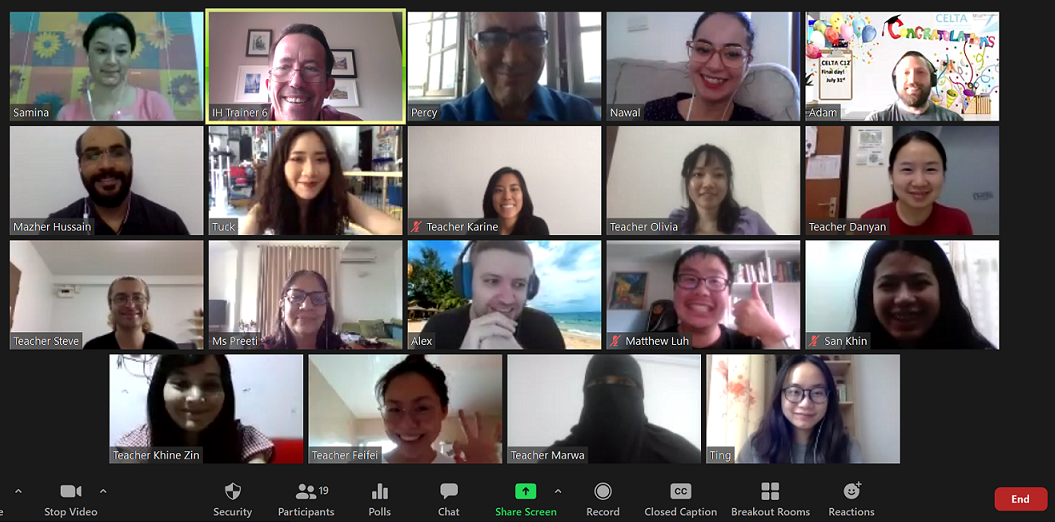 100% Online Student Testimonials
The CELTA course I took over the summer was run online and it was very well administered and being online did not take away from the excellence of the course. The trainers are professional, giving you excellent guidance and  feedback.  They also encourage trainees to share their views about each other's teaching, which helps to  build the trainees skills and methodology. The course encourages teachers to teach real students in a student centred way, thus making the experience very authentic. There is also a treasure of information shared about good teaching practices on the moodle site. All in all, it is very intense but well worth the money spent.  Preeti, Summer 2020        
The CELTA is an enjoyable course in which your own hard-work and dedication are matched by that of the trainers to ensure a valuable qualification is achieved in such a relatively short period of time. Ben, Summer 2020
Face to Face CELTA at IH Chiang Mai
While many centres run just 1-3 courses per year, we run 10 every year so have a lot of experience on how best to run the CELTA. We have only full-time trainers, and at our sister centre in Bangkok. Together, we have over 500 graduates every year!
The dedicated campus allows students to study, eat, and relax together.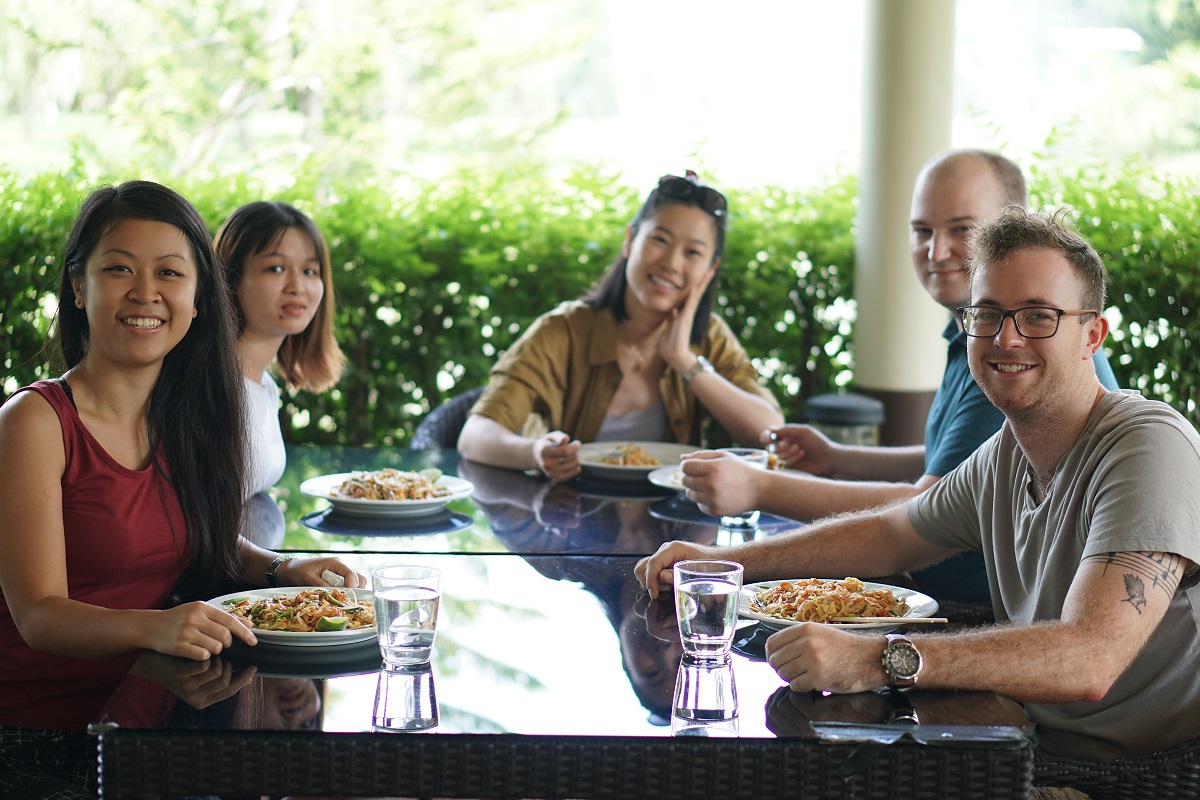 Tutors at this training centre
Danny Wilcocks
I have been an EFL teacher for 29 years and a teacher trainer for 13 years and started out by doing the CELTA myself. It has always been a great pleasure to be part of students succeeding in English and when guiding as a trainer on a CELTA course you certainly feel you are giving teachers great models and frameworks to use in the classroom and immediate feedback to help them develop. This helps both on the course and also afterwards through reflection, which is a key skill learnt on the course.

I believe that starting out with the Cambridge CELTA through International House Chiang Mai/ Bangkok gives teachers great models and frameworks to use in the classroom and immediate feedback to help them develop. This helps both on the course and also afterwards through reflection, which is a key skill learnt on the course. This coupled with the global Cambridge CELTA recognition run by International House, the school that started it, means it gives the best possible help to TEFL careers.